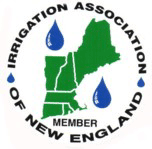 The relationship between water wells and your irrigation system can be quite complex. Since all wells have different depths and flow rates, there is no simple formula for figuring what will work. The best asset here is experience. Blue Sky Irrigation founder Dave Eilenberger has 10+ years experience in the water well business, along with 20+ years in the irrigation field. Lets look at some different scenarios, to give you an understanding of wells, pumps and irrigation systems. For our discussion, we will be strictly talking about drilled, or artesian wells.

The easiest case would be a well that produces a lot of water. This would normally be over 15 gpm (gallons per minute). Since most house pumps won't pump this much water, the supply can easily meet the demand. In all cases, as the water level in the well drops, you will get less flow and pressure. In this first case, a short flow test would give you the number of gpm produced by the pump itself, lets say it is 9.5. Here you could set up your system to use eight to nine gpm, and always be okay. If you were to try to use more, say 12 gpm, the system would not work properly, because the demand has exceeded the supply. This would cause the pressure in the system to drop to an unusable level. This would the same as opening every faucet, hose bib, shower, etc, in your house at the same time. You would get water at all locations, but the pressure would be very low.

In a well that has a low flow, two or three gallons per minute, the depth becomes important. The well itself is a reservoir that stores water at @ 1.5 gallons per foot. Lets deal with a well that is 550 feet deep, and produces 2.5 gpm. This system, depending on the area to be covered, is somewhat complex to set up. Since 2.5 gpm is not enough water flow to drive a sprinkler zone, we will have to use more, and count on the reservoir to support the system. An accurate flow test here is crucial, to come up with a time frame that you can run your system. In a case like this you would not be able to water indefinitely. Say you set up the system for 6 gpm, and are counting on being able to use 400' of the reservoir. This is 600 gallons of water, plus we can add 250 gallons produced in the first 100 minutes. So what we really have is 850 gallons of water to play with, which would give us a run time of 141 minutes. Bear in mind that the longer you run this well, the longer the recovery time will be. If you needed four hours to water your lawn properly, some figuring would be necessary to make this all work.

Please be aware that this is just a small amount of the information necessary to run an irrigation system from a water well. These are only two situations, and as every well and pump perform differently, each case needs to be treated on an individual basis. If you have any questions about your particular situation, please feel free to call us at 1-800-847-2583 or email us at bluesky@mcttelecom.com.