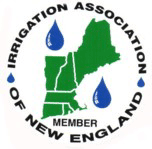 Troubleshooting Your Existing System

Spring Start Up
Starting your own system is not all that complicated, and if you are familiar with it at all, you should find it easy. Two actions will be required; 1; Turning on the water supply, & 2; Turning the timer from Off to Run. All irrigation systems installed or serviced by Blue Sky Irrigation should have a luggage style tag zip tied to the main water valve that services the system. This would generally be in the basement, at or near the water supply. It is marked "Sprinkler System Main Water Shut Off" on one side, and has our logo and phone number on the reverse. Locate this valve (called a ball valve), which will be in the off position. All ball valves are ╝ turn, meaning that from off to on is only a ╝ turn. Most are marked Off/On, and all of them are off when the handle is perpendicular to the pipe, on when the handle is in line with the pipe. Open this valve slowly to avoid water hammer on the outside lines until it is fully open. You will hear an initial rush of water that should slowly subside until it is silent (@ 5 to 60 secs.). Some systems with remote valve boxes will take longer than a system with one valve box located right near the house. If you continue to hear water running, you may have an exterior problem with piping, open winterization valve, etc. An outside investigation will be necessary to find the problem. This is very rare, but it does happen. Be certain that you have filled up all the exterior piping before you assume there is a leak of some kind.

Next you will need to turn the timer back to the Run position. If you are starting your own system, we will assume that you are familiar with the timer. If not, review the instruction manual or cheat sheet inside the timer door. We highly recommend that at this point you run each station/zone manually to make sure there are no problems. Irrigation systems main enemy are snowplows along driveway edges, so you will want to pay close attention to these. Let each zone come up to pressure, and watch the action of all the heads. This will take awhile, since all the piping has been drained for the winter. If you have a zone that seems to run at low pressure, but has no obvious fault, it may be a broken fitting underground. The elbow on the bottom of the heads breaks easier when driven over in frozen ground, and we see many of these each year. Poking around each head may help you find the problem. If everything seems normal, simply check your program to ascertain you have what you want, and away you go! Irritrol RainDial and Total Control timers should have a new battery installed in the compartment inside the timer door. On this timer, the battery holds the time and program in a power failure. Hunter Pro-C timers do not need a battery for this function, as they have an internal lithium battery. For help with these, go to the Timer page. Obviously if you have any problems that you can't fix on your own, we are available to help you out. Simply call us at 800-847-2583, or email us at bluesky@mcttelecom.com.

We provide professional and prompt service to all our customers.