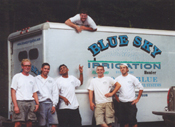 Blue Sky Crew;
Summer 2001,
L to R, Mike Stickney, Mike Migliacci, Raul Patino, Chris Sevigny, Nick Teigen, and Phil Grant (On roof).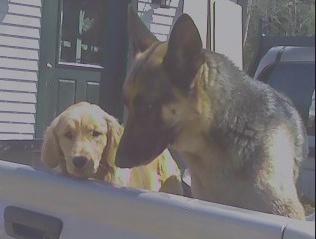 Blue Sky Mascots
(They're not very good workers!)



To provide the finest quality sprinkler systems. Period.

Blue Sky Irrigation was formed in 1995 as a result of owner David Eilenberger seeing a need for a higher level of quality within the irrigation industry. From 1985 to 1995, Dave had worked for a large Concord area water well drilling business, installing and repairing pump systems. In 1987, as the well company integrated into the irrigation business, he became the foreman on the irrigation crew as well. As a result of this involvement, and constantly being on construction sites, Dave began to take notice of other companies irrigation installations.

For the most part, he felt that these installations were substandard, with wiring, plumbing, and field installations having the appearance of a haphazard nature. There appeared to be no attention to detail, and no regard for superior quality. The people who owned these systems complained about poor service, and poor performance of the systems. The lack of understanding of the relationship between wells, pumps, and irrigation systems was a major part of this equation. With over 2500 pump installations behind him, and enough irrigation experience to know he could do better, Dave set out to form what is now Blue Sky Irrigation.

From day one, we have strived to provide not only the finest quality sprinkler systems, but the finest in service as well. Blue Sky Irrigation only uses what we believe to be the finest products in the marketplace, and takes great pride in the quality of every installation also. This work ethic has lead to a stellar reputation with all of the Blue Sky customers, and within the industry as a whole. Our belief is that quality should be the standard, not a goal.

We use only 1" type L copper piping inside buildings, not poly piping. All of our timers are installed using conduits for a neat and professional looking job. All underground fittings are double clamped, and constant pressure lines are all triple clamped. We use Dura Schedule 80 O-Ring manifold parts, because cheaper manifold parts have a tendency to break after time. Our valve boxes are all neat, with the electrical connections heat shrunk with waterproof shrinks. These are just a few of the small differences that make Blue Sky Irrigation stand out among all of the other competitors.

Good communication between contractor and homeowner is paramount for a good working relationship. We believe in returning every phone call every day, and taking care of service calls within one day. Rather than use an answering machine or service, we have fulltime office staff. Allison is generally there from @ 8 to 4 every day, but as with any small company, you may miss her while she's running errands. We do have an answering machine, and respond to all calls daily, but believe strongly in that personal service that only a live person can give you.